Try to count how many subscriptions you have. We'll wait. 
There is your Amazon Prime and your Spotify—those you are married to. What about the Apple TV+ subscription you have been meaning to cancel since you binge watched Ted Lasso…last summer? Scroll through your cellphone (itself another subscription) and you might find a Calm app your doctor recommended but you never actually used, or a dating app you did use and hated, but will probably use again. There is the Chewy subscription to feed your dog, the DoorDash subscription to feed yourself and the Peloton subscription to work off the food you just ate. And, of course, there is also The Wall Street Journal subscription necessary to read this article.
The strategy of locking people into small, recurring payments predates the internet and even credit cards, but it gained momentum during the pandemic. It doesn't just add up to a lot of money for many household budgets—it has created hundreds of billions of dollars of value on Wall Street. Companies that get it right and keep you satisfied, or at least paying, have been rewarded richly for their predictability and rapid growth. Subscription businesses saw revenue grow by more than 300% between 2012 and 2018, five times faster than the overall pace of the companies in the S&P 500, according to management consulting firm McKinsey.
There have also been a few high-profile busts. In a classic cautionary tale, meal-kit delivery service Blue Apron lost nearly 90% of its market value in the 18 months following its 2017 initial public offering. In the first quarter of 2017, Blue Apron had well over 1 million customers, thanks in large part to high marketing spending. Two years later, it had shed nearly half of them.
But even as investors have become wary of companies stuck on similar marketing treadmills, burning through investors' cash to create the illusion of popularity, subscription spending has become stickier since the pandemic arrived. A study posted last week estimating long-term impacts of Covid-19 on consumption patterns found that, while most consumer spending habits have reverted back to prepandemic trajectories, subscription spending has been durable. Even meal kit orders were up 36% as of June 2022 compared with January of 2020, data from authors Shin Oblander of Columbia Business School and Daniel McCarthy of Emory University show.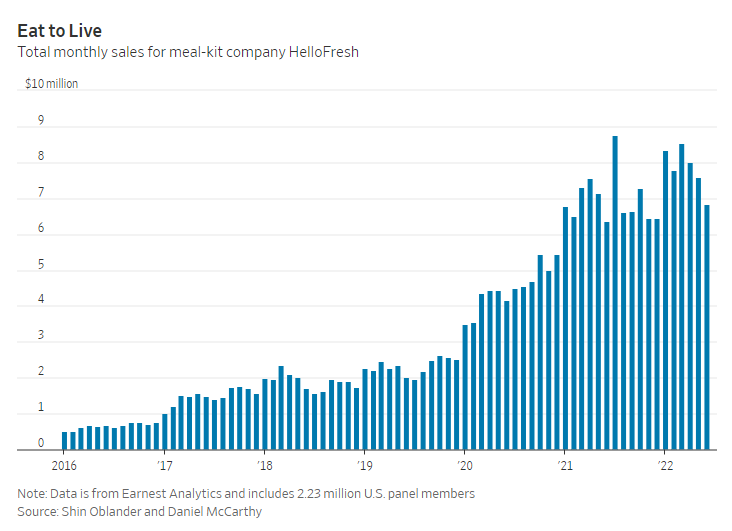 It helps that people pay on autopilot. Surveys by consulting firm West Monroe show Americans have long underestimated their monthly subscription spending. As of 2021, 100% of respondents were unaware of what they actually spent on subscriptions, with consumers actually spending 3.4 times more than what they guessed. A surprising 13% of respondents were off by more than $400 a month.
Getting people to enter their payment details is more than half the battle. A 2016 survey by fintech startup Hiatus found more than 70% of consumers continued paying for unwanted subscriptions because they simply forget to cancel the service before it is renewed. About a fifth of respondents said they continued subscribing to things they didn't even want because it took too much effort to cancel services. Others said they didn't cancel because they thought they would eventually need the subscription again. Some companies, such as gym chain Planet Fitness, seem to make canceling your membership intentionally cumbersome, ironically banking on customers' laziness.
Subscriptions might seem like death by a thousand financial cuts, but they could be a spending category that stays elevated even as other pandemic buying patterns fade away. Mr. McCarthy says part of the reason is that pandemic gains for subscription services were relatively more modest than those of say, restaurant and grocery delivery. Another factor could be that, by virtue of often being difficult to cancel, people have become more thoughtful about signing up for recurring purchases than something they buy once or twice.
Satisfaction with subscriptions seems to be increasing, according to West Monroe's studies, with 61% noting they were "hooked and happy" with their subscriptions. The firm found that, the longer people subscribe to things, the more they begin to feel like utilities—similar to a cellphone or internet bill—rather than nice-to-haves. A more recent survey by the firm concluded the more top of mind something is, the more likely it is to be questioned.
Perhaps that has been part of Peloton Interactive's problem: With its churn rate rising dramatically and its sales of connected fitness products like bikes and treadmills projected by Wall Street to decline by more than 50% for the company's fiscal year ending June 2023, it is a notable exception to the continued success of the subscription category. Whereas a dating app can sit hidden among your phone apps unnoticed for months, you are likely to walk past your Peloton bike constantly. The less you actually use it, the more the subscription guilt piles up.
Prof. McCarthy said Peloton also is suffering from the fact that it is fundamentally a non-subscription business, with the vast majority of revenue prepandemic coming from expensive hardware. Peloton's new chief executive, Barry McCarthy (no relation), is trying to change that by bundling rented hardware and fitness content into a premium-priced subscription plan, but it might be too late.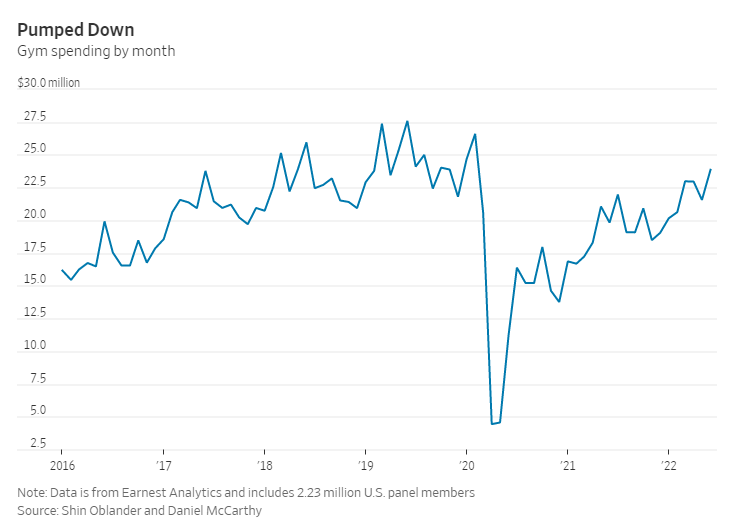 Gyms, which are fundamentally subscription businesses, still haven't fully recovered from the pandemic, according to the Oblander and McCarthy study, illustrating the other side of the category's stickiness: Once you go to the trouble to cancel, you don't often rush back. Growth is still possible, but with lots of marketing to bring in new customers.
A new breed of subscription businesses could provide investors with a far calmer ride. Maybe they can even ditch that meditation app.
---
This article was originally published in The Wall Street Journal on December 9, 2022, and written by Laura Forman.
Image courtesy of iStock
---
Spectrum Wealth Management, LLC is an investment adviser registered with the U.S. Securities and Exchange Commission. Registration does not imply a certain level of skill or training. Additional information about Spectrum's investment advisory services is found in Form ADV Part 2, which is available upon request. The information presented is for educational and illustrative purposes only and does not constitute tax, legal, or investment advice. Tax and legal counsel should be engaged before taking any action. The opinions expressed and material provided are for general information and should not be considered a solicitation for purchasing or selling any security.