Despite potentially devastating consequences for their heirs, millions of Americans still haven't written a will. 
While the total real wealth of households has tripled over the past three decades, according to the Congressional Budget Office, 54% of Americans told Gallup they didn't have a will in 2021. Even the wealthy put off estate planning—one in five Americans with investible assets of $1 million or more don't have a will, according to a recent Charles Schwab survey.
If you die without a will, a range of state laws dictate who gets your assets, and your loved ones may get nothing. They might get kicked out of the family house and could face hefty surprise tax bills.
John Powers, of Auburn, Wash., and his live-in partner of 18 years, Christina Lewis, had an appointment with an estate lawyer to draw up wills last November, but she died in a horseback-riding accident at age 64 the weekend before.
The consequences of dying without a will—the legal term is intestate—come down to where you live. What Ms. Lewis might have written in her will didn't matter. Instead, Washington state's intestacy laws decided.
While grieving, Mr. Powers, 62, had to get Ms. Lewis's sons who live in England to sign off so he could be appointed by the local probate court to administer her estate. He said she wanted him to have both the $600,000 house and Volkswagen SUV they bought together, but by law her sons were entitled to her 50% interest, so he had to buy them out to keep his home and car.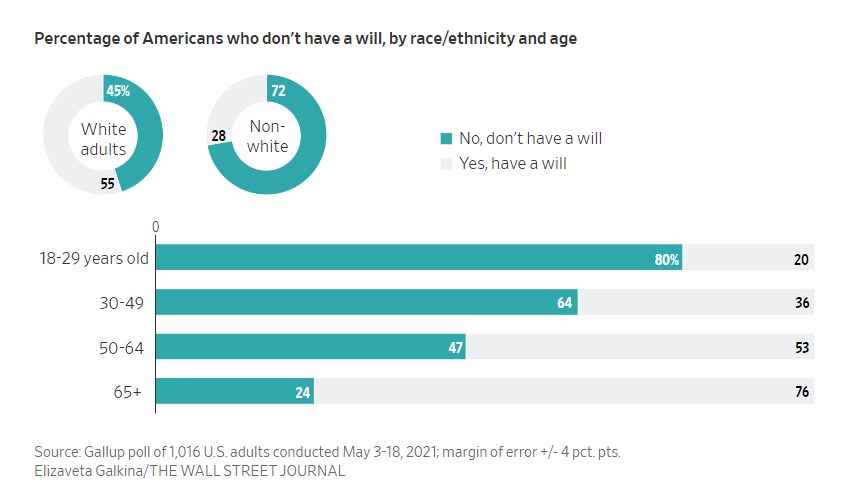 "It's been quite a struggle," Mr. Powers said. His latest task is to get her jewelry appraised and delivered to England.
Dying intestate can have unintended consequences for pretty much every family type, but it is especially painful if there are unmarried partners or stepchildren, who are left out under the law in almost every scenario.
"The default rules are out of touch with today's family structures," said Danaya Wright, a University of Florida law professor.
Without a will or trust, you're giving up the opportunity to say who will administer your estate, who will be a guardian for minor children, and who will get what.
"Don't assume that what you think will happen when you die without a will or trust is what actually will happen," said Toni Ann Kruse, a New York City estate lawyer.
Here's what to know about your options, and how to avoid the worst.
Know your state's laws
Kurt Nilson, a lawyer in Johnstown, Pa., has been keeping track of intestacy statutes as a hobby for decades and developed online calculators at heirbase.com where you can enter your family information to see what might happen if you die without a will.
If there is a surviving spouse and children, the surviving spouse gets 100% of the estate and the children get nothing in some states. In other states, the percentage split varies.
In Tennessee, for example, a surviving spouse with two or more children gets a third of the estate, with the rest split equally among the children. In Pennsylvania, if there are no children but a surviving parent, the surviving spouse gets the first $30,000, with the balance split 50%-50% with the parent.
The way people want to distribute their assets is often at odds with the law, a survey of 9,000 Americans conducted by two Yale law professors found. Nearly 30% of people who were married with children said they would prefer to leave their spouse nothing, co-author John Morley said.
Many would like to leave substantial assets to their live-in nonmarital partners. And many would prefer to give much less to parents than intestacy laws provide, and much more to siblings.
Make sure all of your assets are covered
Retirement accounts and life-insurance policies pass to whomever is listed on a beneficiary form. If you leave it blank and don't have a will, your state's intestacy laws will typically apply. Mr. Powers got a life-insurance payout because Ms. Lewis's policy listed him as the beneficiary, and her sons got her 401(k) with a big tax bill for the lump sum distribution because she hadn't named a beneficiary on the account.
Mr. Powers, an endurance sports-car racer, went back to his Seattle lawyer, Kirsten Ambach, in February before a big event and got his will and other estate planning documents done.
"I wouldn't want to put my son in the same shoes I was in," he said.
Any real estate or bank accounts listed only in the name of someone who dies without a will are distributed based on the state's intestacy rules. If you don't have a will and want to make sure a partner gets your house or bank account, use a transfer on death deed or a payable on death account, Ms. Ambach said.
Don't delay 
It isn't just a lack of awareness that causes people to avoid making an estate plan, but the tough decisions amid complex family dynamics.
Prof. Morley's brother, Eric Morley, an insurance compliance manager in Bremerton, Wash., has been together for 12 years with a partner he considers a stepfather to his three children from an earlier marriage that ended in divorce. They have talked about writing wills, but have put it off, even though Prof. Morley explained the danger.
"We live assuming a high degree of risk if something were to happen to one of us," said Eric Morley, 45. "Who thinks they're going to die tomorrow?"
One nudge that can help people to get a will done is to focus on what feels right for the next three to five years, knowing a will can and should be updated as life happens.
"It says 'Last Will and Testament,' but I like to think of it more as a work in progress," Ms. Ambach said.
---
This article was originally published in The Wall Street Journal on May 2, 2023, and written by Ashlea Ebeling. Image courtesy of Getty Images.
---
Spectrum Wealth Management, LLC is an investment adviser registered with the U.S. Securities and Exchange Commission. Registration does not imply a certain level of skill or training. Additional information about Spectrum's investment advisory services is found in Form ADV Part 2, which is available upon request. The information presented is for educational and illustrative purposes only and does not constitute tax, legal, or investment advice. Tax and legal counsel should be engaged before taking any action. The opinions expressed and material provided are for general information and should not be considered a solicitation for purchasing or selling any security.