Many shoppers are trading down to less expensive clothing and accessories—swapping Lululemon leggings for Uniqlo and expensive lingerie for Target bras and panties—as inflation eats into their disposable income and a rocky stock market erodes their wealth.
The downshift raises concerns about the coming holiday season, historically a time when many people splurge on designer handbags, fine jewelry and other extravagant purchases for themselves or loved ones. Investors will get updates on shopping attitudes this week when Ralph Lauren Corp., Michael Kors parent Capri Holdings Ltd. and Tapestry Inc., the owner of Coach, report their latest results.
"I'm skipping the splurge this year," said Kate Cheng, who owns a jewelry store in San Francisco. Ms. Cheng said she normally treats herself to a designer handbag or another luxury item during the holidays, but is holding off this year over concerns about a looming recession.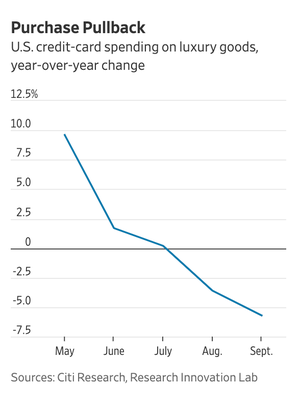 She has noticed a shift in her customers' buying habits in recent months to less-expensive silver jewelry from gold. That has prompted her to curtail her own spending. She switched to Uniqlo leggings instead of products from Lululemon, which cost about twice as much. She also canceled a trip to Maui, which would have cost about $4,000, and instead plans to take a road trip to New Mexico for about half the price.
Seventy-two percent of consumers plan to look for less expensive alternatives this holiday season as a result of inflation, according to a survey of 2,200 U.S. adults by Morning Consult, a research company.
With inflation at a four-decade high, consumers have been trading down to less-expensive groceries and other necessities for the better part of this year. Now, with the stock-market plunge of recent months further eroding the wealth of middle- and higher-income households, the penny-pinching is extending to more discretionary purchases.
Holiday retail sales in November and December, excluding spending on cars, gasoline and restaurants, is slated to increase between 6% and 8% from a year ago, after a 13.5% jump last year, according to the National Retail Federation, a trade group. The labor market is strong, and NRF expects some consumers will tap their savings and credit cards to deal with price increases.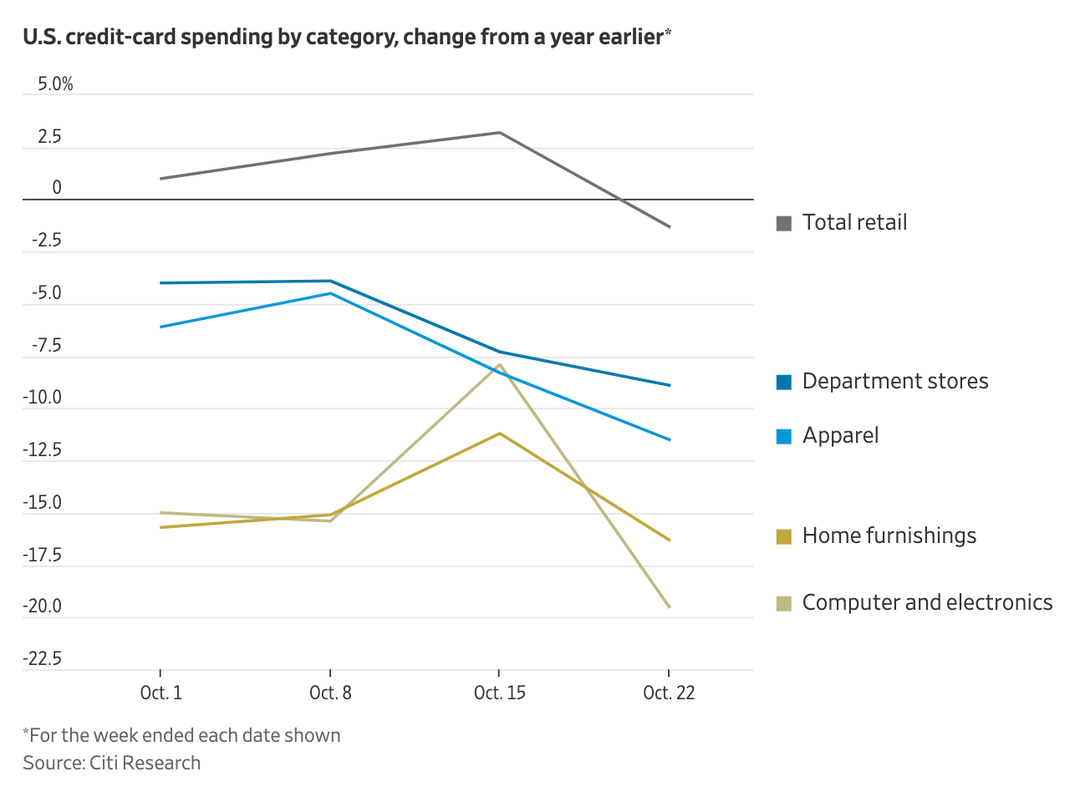 U.S. consumers slowed their spending on luxury goods in recent months, according to credit-card data from Mastercard Inc., Citigroup Inc. and BofA Securities Inc. Spending over the summer and into September fell from the same period a year earlier, after posting double-digit percentage gains for most of the past two years.
Thomas Chauvet, who heads Citi's Europe luxury goods equity research, said the slowdown was driven by a deceleration in transaction values, suggesting that even affluent consumers are trading down. According to BofA Securities, middle-income consumers, those making $50,000 to $125,000, slowed their spending the most.
Marc Metrick, chief executive of Saks, the online platform of the Saks Fifth Avenue brand, said customers with household incomes of about $100,000 are still spending but at a slower rate. These customers spent 20% more at Saks in recent months compared with the same period in 2021, but that is down from the 40% increase during the first six months of this year. As a result, Saks is selling fewer wallets, belts and other items bought by entry-level shoppers. "They are the canary in the coal mine for sentiment at that aspirational level," Mr. Metrick said.
Jean-Marc Duplaix, finance chief for Gucci parent Kering SA, told investors in October that entry-level shoppers are buying less. "Among certain categories of products, which are maybe more appealing to a more aspirational clientele, there is some more pressure," he said.
The slowdown has also hit American jeweler Tiffany, according to its parent, LVMH Moët Hennessy Louis Vuitton SA. "The business in the U.S. is a bit less strong than it used to be," but it is still growing at a double-digit percentage, Jean-Jacques Guiony, LVMH's finance chief, told analysts in early October.
Kering and LVMH executives said some U.S. shoppers shifted spending to Europe given the strength of the U.S. dollar. LVMH said its overall business with American shoppers in the third quarter was similar to the first and second quarters of this year.
Mr. Chauvet said the U.S. slowdown in Citi's data, which started in May, wasn't the result of purchases shifting overseas because it captures spending by U.S. consumers regardless of their location.
Luxury brands have been among the most aggressive in raising prices. HSBC estimates the sector raised prices around 5% since April, on top of an 8% increase starting in September 2021.
David Hampshere, who owns a real-estate investment company, switched from Ralph Lauren button-down shirts to Costco Wholesale Corp.'s Kirkland brand earlier this year. "With the stock market tanking and mortgage rates rising, I've definitely been cutting my expenses," said Mr. Hampshere, who is 55 years old and lives in Freeport, Fla.
Mr. Hampshere recently returned a pair of $300 noise-canceling headphones and is instead using an old pair that he already owned. He plans to give friends and family $30 gift cards this holiday season rather than the $100 cards he doled out last year.
Stacie Krajchir, 54, a publicist who lives in Los Angeles, has stopped buying Natori underwear and now gets her bras and panties at Target. "I don't need a $110 bra," said Ms. Krajchir. "A $12 bra is good enough."
She recently returned a $300 blouse she bought at Nordstrom. "I can buy a blouse, jeans and a dress at Zara, and it still won't add up to $300," Ms. Krajchir said. She plans to trade down in her gift-giving, too. She is getting her sister one gift this year, instead of the five gifts she normally gives her.
Brett Glickman started swapping lower-priced items for high-end ones in her San Francisco boutique after she noticed consumers becoming more frugal in recent months. She is pulling $198 French silk nightgowns off the shelves and replacing them with $24 sweaters and $65 baby-doll dresses. "I had to flip about 30% of my inventory to less- expensive prices," the former Levi Strauss & Co. executive said.
JCPenney and Kohl's Corp. said they are seeing consumers switch to private-label brands, which tend to be more affordable than national brands. "They were definitely trading down," Jill Timm, Kohl's finance chief said at a conference in September, referring to Kohl's shoppers.
Vered DeLeeuw, of Washington, D.C., used to buy most of her clothes at Bloomingdale's, but has switched to Nordstrom Rack for its bargain prices. "Bloomingdale's was my mother ship, but it is too expensive now," the 51-year-old food blogger said.
---
This article was originally published in The Wall Street Journal on November 6, 2022, and written by Suzanne Kapner
https://www.wsj.com/articles/inflation-recession-fears-have-some-holiday-shoppers-trading-down-11667730623
Illustration by Hanna Barczyk for The Wall Street Journal
---
Spectrum Wealth Management, LLC is an investment adviser registered with the U.S. Securities and Exchange Commission. Registration does not imply a certain level of skill or training. Additional information about Spectrum's investment advisory services is found in Form ADV Part 2, which is available upon request. The information presented is for educational and illustrative purposes only and does not constitute tax, legal, or investment advice. Tax and legal counsel should be engaged before taking any action. The opinions expressed and material provided are for general information and should not be considered a solicitation for purchasing or selling any security.