The business that started 30 years ago with a meeting at a Denny's has become the semiconductor company at the heart of the artificial-intelligence revolution, putting it on the cusp of becoming the first $1 trillion chip company.
Nvidia's shares soared more than 24% last week to an all-time high after it said the AI boom is translating into record sales, fueling excitement that the new era in computing is kicking in faster than previously thought.
"When generative AI came along, it triggered a killer app for this computing platform that's been in preparation for some time," Nvidia Chief Executive Officer Jensen Huang said Wednesday.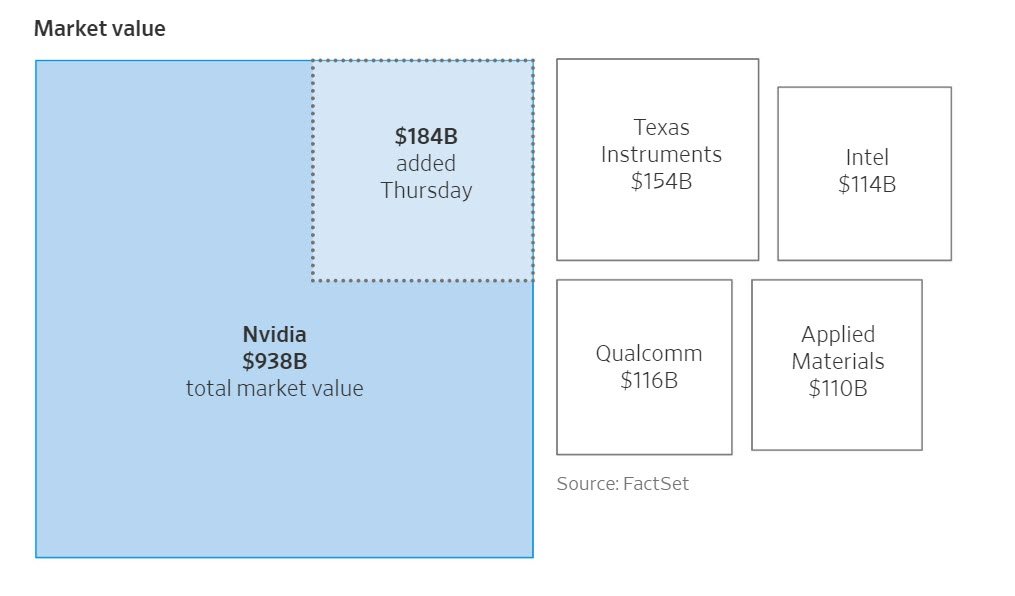 Michael Sansoterra, the chief investment officer at Atlanta's Silvant Capital Management, which counts Nvidia among its largest stockholdings, said, "This is going to be the largest change in tech that we've seen since the internet, there's little doubt in my mind." What is so exciting for investors now, he added, is that after months of chatter around AI, the money is starting to flow.
The $183.8 billion it added Thursday in market valuation, the third-most ever for a U.S. company, pushes its total to over $938 billion, bringing Nvidia close to joining Apple, Microsoft, Amazon and Google parent Alphabet on the list of the world's trillion-dollar companies.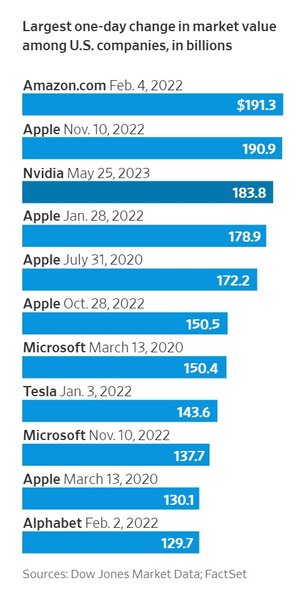 Unlike those companies, Nvidia isn't a household name. It doesn't produce consumer devices or internet services that the world's masses use daily. Behind the scenes, though, its chips have become indispensable. They are used in PCs, cars and robots. Now with AI, its processors drive new chatbots that generate cogent-sounding sentences and a raft of other tools that the world's biggest companies are racing to deploy.
For Huang, who typically wears a signature leather jacket in his public appearances, it is the culmination of a journey that began at the Denny's in San Jose, Calif., when he discussed with two fellow engineers how to make computer graphics better. Nvidia took another turn some 16 years ago when Huang moved to make it more mainstream, looking for new customers after establishing itself as a leader in graphics processors that made videogames more crisp and less choppy.
There was little fanfare in late 2006 when Huang opened up Nvidia's graphics-processing units to software developers to tinker, allowing them to use their computing power for purposes other than making graphics look better. The move, he told analysts on an earnings call, "will open a whole new field called GPU computing." None of the analysts asked for further details.
Those Nvidia processors, developers soon realized, were exceedingly good at the complex calculations that undergird modern AI systems. They excel at doing lots of computations simultaneously, something for which traditional computing engines—central-processing units—are less well-suited.
Nvidia's first big success outside videogaming was cryptocurrency mining, where GPUs also proved proficient. Nvidia passed chip giant Intel in market value in 2020 as crypto prices rose, and its stock continued rising to its previous record of nearly $330 a share in late 2021.
When the crypto winter set in, Nvidia's stock crashed last year, before the AI wave reignited investor enthusiasm in recent months.
The AI craze also made investors all but forget another Nvidia setback. In the midst of the pandemic, Huang made one of his boldest moves, seeking to acquire British chip-design specialist Arm from SoftBank Group in a deal valued, at the time, at roughly $40 billion. The two called off the deal last year after rivals objected to Nvidia acquiring a company that had earned a reputation as acting as a kind of Switzerland to the chip industry, offering its designs to everyone without favoring any one company.
Analysts say the AI boom holds much greater and more lasting promise for Nvidia than crypto. The company currently has no competitor that can match it in its breadth of chips and software for the computing-intensive demands of generative AI. UBS analysts estimate developing OpenAI's ChatGPT, the first major generative AI system to be widely available, required some 10,000 Nvidia GPUs.
What is different about generative AI is that there are clear uses for the technology as businesses look for ways to exploit its capabilities, said Stacy Rasgon, a chip-industry analyst at Bernstein Research. "It's not crypto," he said. "I'd bet in five or 10 years the overall opportunity is considerably higher than it is today because we'll grow into this."
The AI craze is fanning investor enthusiasm in other chip companies, too. Shares in Marvell Technology, which makes chips for networking and data storage, soared 30% Friday after management said AI-related revenue would double in its current fiscal year.
As the AI arms race heats up between companies including Amazon, Microsoft and Alphabet's Google, Huang on Wednesday described the computing transition under way as an "iPhone moment," referring to the rapid growth of smartphones after Apple launched its signature phone in 2007. Operators of data centers are revamping to make them better for AI, he said, playing to the strengths of Nvidia's chips and software.
"We're seeing incredible orders to retool the world's data centers," Huang said in a call with analysts.
Demand for Nvidia's chips has been so hot lately that its supply chain has struggled to keep pace. Nvidia's chief financial officer said Wednesday that the company had secured "substantially higher" supplies of chips for the second half of the year.
Nvidia designs but doesn't make its own chips. The company embraced from the get-go a business model that farmed out production to contract chip makers including the world's largest, Taiwan Semiconductor Manufacturing.
The shift in the computing landscape could present challenges to Intel, the dominant supplier of data-center CPUs that form the backbone of corporate networks and the internet. Intel, shares of which fell by more than 5% on Thursday, is making its own efforts to cater to the AI demand, including specialist AI chips and new CPUs that handle AI calculations better.
"I think you're seeing the beginning of, call it a 10-year transition to basically recycle or reclaim the world's data centers and build it out as accelerated computing," Huang said. Nvidia is now roughly eight-times Intel's market value.
AI has become a battleground in the tech war playing out between the U.S. and China. China's top nuclear-weapons research institute has bought Nvidia chips, among others, despite its placement on a U.S. export blacklist in 1997, The Wall Street Journal has reported.
Last year, the Biden administration imposed new licensing requirements on shipments of some of Nvidia's most advanced chips to China, costing the company hundreds of millions of dollars in sales. Since then, Nvidia has begun offering an alternative new graphics-processing chip with specifications that allow its export to China.
---
This article was originally published in The Wall Street Journal on May 29, 2023, and written by Asa Fitch. Image courtesy of Ritchie B. Tongo/EPA/SHUTTERSTOCK/WSJ.
---
Spectrum Wealth Management, LLC is an investment adviser registered with the U.S. Securities and Exchange Commission. Registration does not imply a certain level of skill or training. Additional information about Spectrum's investment advisory services is found in Form ADV Part 2, which is available upon request. The information presented is for educational and illustrative purposes only and does not constitute tax, legal, or investment advice. Tax and legal counsel should be engaged before taking any action. The opinions expressed and material provided are for general information and should not be considered a solicitation for purchasing or selling any security.