Homeowners add solar panels to save on utility bills or to lower their carbon footprint. But what happens when those homes are sold? Do solar panels affect sale prices? And what do sellers and buyers need to know when homes with panels change hands?
Home buyers are increasingly likely to find solar systems on prospective homes. With the Inflation Protection Act's extension of a 30% federal tax credit for the installation of residential solar panels to 2034, the White House predicts 7.5 million more homeowners in the U.S. will install panels over that period, adding to the more than three million homes already equipped.
The impact of solar panels on home values depends on whether the homeowner owns the solar system or is leasing it, according to a working paper by researchers at the Lawrence Berkeley National Laboratory, which is funded by the Energy Department, and mortgage guarantor Fannie Mae. The researchers studied sales of homes with solar panels from 2011 to early 2020 in four states—California, Oregon, Connecticut and Massachusetts—which they say account for roughly half the residential solar-energy capacity in the country.
The researchers concluded that solar-energy systems owned by the homeowner are likely to increase the value of the home by about the amount the system cost, but systems that are leased have no statistically significant impact on home prices.
That distinction—between owned and leased systems—is important not only for prices but also for several other aspects of home sales. When the equipment is owned outright, there are few entanglements for a home sale. But when the equipment is being leased or financed over time, there are several potential complications. Here's a look at what buyers and sellers need to know.
Pointers for home buyers
Mortgage lenders might balk if monthly solar-equipment lease payments tip a prospective buyer's debt-to-income ratio below the level the buyer needs to qualify for a mortgage, says Peter Murray of Murray & Co. Real Estate in Maryland. So buyers might want to make a more conservative offer when leased solar is involved, to allow for the added monthly cost.
A seller's credit issues can also be a problem for a buyer. If a seller has fallen behind on payments to a solar installer or lender, it could create delays in the home sale and significantly raise the buyer's costs. Veronica Mirasol, a Realtor with the Dean Clark Group RE/MAX on the Hudson in New Jersey, says this happened in the sale of a property in Edison, N.J., last year. "I think we were four days from closing," she says. "The title [company] came back and said 'There's a solar-panel lien?' " The sale was able to close six days later than originally planned, but it ended up costing the buyers an additional $50,000 to buy out the existing lease for the solar system.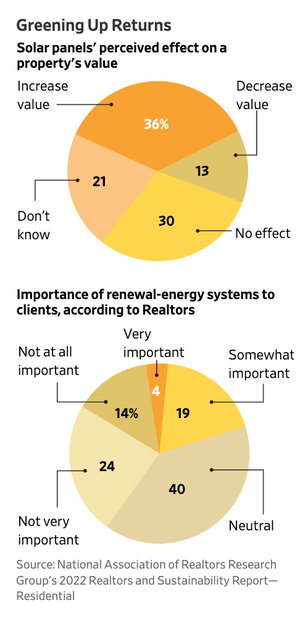 Ms. Mirasol says buyers and their attorneys need to read the fine print on contracts related to solar equipment and steel themselves—and even keep extra funds set aside, if possible—for surprises that might emerge from a title search or underwriter's review.
Regardless of whether a solar system is leased or owned outright, prospective buyers should ask for past utility bills and data about the system's output and energy-savings history, so that they understand its impact on their costs after they move in, real-estate agents say. In addition, buyers should become familiar with state and local incentives around renewable energy such as net metering, which credits owners of solar-energy systems for excess electricity they add to the grid. Programs vary by utility provider.
Increasingly, providers are offering net billing instead of net metering, says Eric O'Shaughnessy, a renewable-energy consultant affiliated with the Berkeley Lab. The plans are similar, but net billing provides a lower credit for solar delivered back to the grid.
In addition, buyers need to give some extra consideration to the condition of the home's roof. If an inspection shows roof problems, repairs or reroofing would likely require removal and reinstallation of solar equipment, so a buyer might seek price concessions to cover that future cost.
Buyers might also need to hire regular maintenance services for the solar system, says Jennifer Anderson, a Compass Realtor in San Diego.
What sellers need to know
Sellers of homes with rooftop solar panels are in the strongest position to see the deal go smoothly if they own the system outright.
A homeowner sometimes has the option of buying a solar system they've been leasing, but the leasing company might not agree to sell the system before the installation is five years old, says the Berkeley Lab's Ben Hoen, co-author of the working paper. That's because if it does, the leasing company will have to repay to the Treasury Department a portion of the tax credit it claimed for the installation.
If a homeowner owns their solar panels, they can be valued in an appraisal, according to Fannie Mae, while leased equipment is not appraised. If a homeowner has the option of financing solar equipment as a fixture to real estate, which means it can't be repossessed if a homeowner defaults on payments, its value can be included in an appraisal. But if the equipment is financed as personal property, it can't be valued in an appraisal of the home.
Either way, home sellers can showcase the value of solar systems with the help of online tools, in addition to providing past energy bills and data about a solar system's performance. Mr. Hoen suggests using pvvalue.com, a free tool that estimates the value of the electricity being produced for a specific home, to better illustrate potential savings over the lifetime of the system.
Knowing the specific terms around the transfer of ownership of a system is important. Ms. Anderson says she represented a seller in 2021 who disclosed that the solar system was leased, with a contract that allowed the original owner to buy out the lease at a set price. But the solar company had a policy that the system would have to be reappraised if the home was sold. That value came back about 13% higher, she says, so the deal had to be restructured to account for that higher appraisal and the resulting higher lease-buyout price.
"The seller wasn't aware that the reappraisal language was in the solar-equipment lease," she says. Such an increase in the buyout terms is rare, she says. But this case demonstrates the importance of "being aware of the caveats that contracts can have, even if they don't make sense or if it seems counterintuitive."
Warranties are another tricky area. Home sellers should keep all documents related to the installation, purchase or lease, and be sure they understand the warranty terms and make the seller aware of them. Not being able to locate the paperwork for a warranty or suddenly finding that a warranty isn't transferrable to a new owner without the payment of fees could make a buyer balk.
Ms. Anderson also recommends that a homeowner who knows their warranty is coming to an end initiate a service call so the equipment is in the best shape possible for a new owner. "It just makes the buy side feel nice," she says.
---
This article was originally published in The Wall Street Journal on September 12, 2022, and written by Demetria Gallegos.
https://www.wsj.com/articles/solar-panels-increase-property-value-buyers-sellers-11662565696
---
Spectrum Wealth Management, LLC is an investment adviser registered with the U.S. Securities and Exchange Commission. Registration does not imply a certain level of skill or training. Additional information about Spectrum's investment advisory services is found in Form ADV Part 2, which is available upon request. The information presented is for educational and illustrative purposes only and does not constitute tax, legal, or investment advice. Tax and legal counsel should be engaged before taking any action. The opinions expressed and material provided are for general information and should not be considered a solicitation for purchasing or selling any security.