Filling out brackets for the NCAA tournament is a rite of March. It's also a famously inexact science, where the grandmother who picks teams based on their mascots has as good a chance of winning as the analytics geek who spent hours poring over team sheets.
You could reference the Madness Machine, The Wall Street Journal's bracket generator based on reams of data from the NCAA and basketball statistician Ken Pomeroy. Or you could go for a more subjective approach: Is red your favorite color? Are you more of a dog person or an ornithophile? Do you like to watch teams where super tall players dominate?
As it turns out, there is a way to quantify whimsy. The Journal looked at all-time results from the NCAA tournament since 1985, when the field expanded to 64 teams, to determine which mascots and colors performed the best, and whether bigger was indeed better come March. It's an objective look at subjectivity.
If you're picking teams to advance based on the color of their jersey, go for Blue. Once they're in the tournament, blue teams have won 55% of the time and do even better, winning 63% of the time, when their opponent wears a different color jersey. Blue is also a reliable bet for the championship round: blue teams have appeared in the final all but once since 2003 and won every year from 2014 to 2019. Since 1985, the most popular title game jersey matchup features not one, but two blue teams.
Teal teams, on the other hand, have a losing record when they play against teams with any other colored jersey. In 11 trips to March Madness, UNC Wilmington and Coastal Carolina have won just one game in 2002.
There's a class of blue bloods in college basketball, so called because of their championship pedigree rather than their jersey colors. But as it turns out, many of the best programs in the sport also wear blue: Kansas, North Carolina, Duke, Kentucky. These teams, which make up 34% of all teams to play in the NCAA tournament, win more than 50% of their games against every color save Orange.
Orange teams are the second most reliable winners in March, having won 54% of the time against all opponents. They're also the third most common jersey color of NCAA Tournament teams—10% of participants all time. But in 2023, the team whose mascot is literally an orange, Syracuse, won't be in the tournament.
Picking winners based on their mascot is for the birds—literally. Teams repped by birds have played more games through all rounds and all years of the NCAA tournament than any other cohesive species. Other animals, a group that includes livestock (Texas, North Carolina), elephants (Alabama), rodents (Minnesota) and reptiles (Maryland, Florida), have birds beat overall. Although birds soared in 2022—the Kansas Jayhawks won the title—cats have won the most championships as a cohesive species thanks to Kentucky (3), Villanova (3) and Arizona (1).
Though humans often slay mythical creatures in literature, the opposite happens in the NCAA tournament. Teams with mythical mascots beat mascot people 56% of the time and defeat teams with historical mascots, like the Michigan State Spartans or the Xavier Musketeers, in 62% of all games. People also beat horses more reliably than any other mascot.
Don't write off equine teams entirely, however. Teams with horse mascots have beaten bears 67% of the time and cats 65% of the time.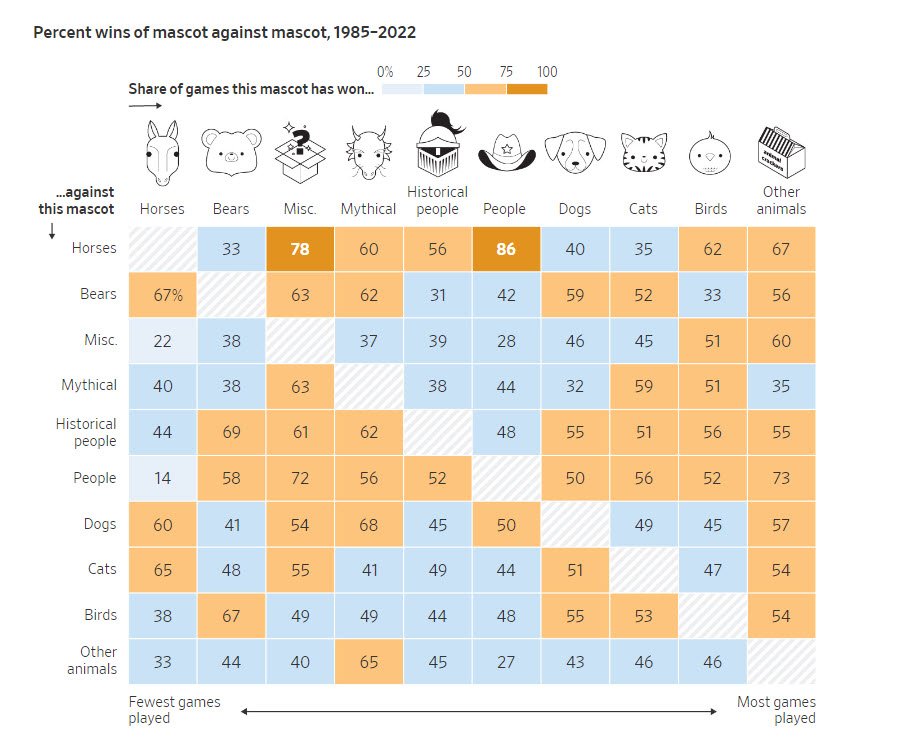 Bigger isn't always better in college basketball. The average height of tournament teams has inched slightly higher since 2007, the earliest year for which height data is available, but the same isn't true for the team that cuts down the nets. The 2012 and 2015 NCAA tournaments were the only ones where the winners got taller, on average, as the rounds went on.
Effective height, a measure of how tall a team's center and power forwards are, is a slightly more predictive metric. That's because centers and power forwards are the positions for which being tall and long-limbed is most helpful: they play in the post and tend to accumulate the most rebounds and blocks. A point guard, by comparison, can still make smart passes whether they are 5-foot-10 or 6-foot-6. As the NCAA tournament progresses, the centers and power forwards do tend to get taller. This is to say, teams with taller post players tend to win more games in March.

Methodology: Team color is based on the prominent color of the team's away jersey. In cases where a team's nickname differs from its mascot (e.g., the Fighting Illinis of the University of Illinois have a Belted Kingfisher (bird) for a mascot), the team is categorized by its mascot.
Sources: NCAA; KenPom.com
---
This article was originally published in The Wall Street Journal on March 12, 2023, and written by Rosie Ettenheim and Laine Higgins. Image is uncredited.
---
Spectrum Wealth Management, LLC is an investment adviser registered with the U.S. Securities and Exchange Commission. Registration does not imply a certain level of skill or training. Additional information about Spectrum's investment advisory services is found in Form ADV Part 2, which is available upon request. The information presented is for educational and illustrative purposes only and does not constitute tax, legal, or investment advice. Tax and legal counsel should be engaged before taking any action. The opinions expressed and material provided are for general information and should not be considered a solicitation for purchasing or selling any security.